How to set up Hosting on Google Cloud Hosting Services At Free.

How to Setup Google Cloud Platform?
In this blog, I'm going to tell you how to set up a Google Cloud Hosting with free $300 credit for 3 Months with your Existing Google Account to set up the hosting on your Domain. For setup of hosting some Things are required.
Google Account
A Fresh Domain
A PC or Laptop. At least a minimum 8MBPS Speed Connection for Google Cloud Hosting setup.
GO TO GOOGLE CLOUD SITE:- click here
Step Wise Procedures:
Setup Google Free Credit & CREATE INSTANCE FOR WordPress DEPLOYMENT:
To Setup, an Google Cloud Hosting Open the Google Cloud site from the above-mentioned link to Setup the Ho. Log in with your Google account Go to Console Panel Above the Page. as you can see on the upper side of the page the message "your free trial is waiting: activate now to get 300$ credit OR 12-Months" Click Activate Button like the below image.
2. Select your country -> mark agree terms & conditions -> AGREE AND CONTINUE -> Click Next -> select account type as Individual -> Fill the Other Information and Card Information(You Can Cancel Google cloud Hosting at any time within a year) After Completing the process you can see the message as below image
3. Click On Project List -> Select New Project -> Type any Project Name you Want
4. You can Type any Project Name as you Want -> Location selection is Not Required -> Click Create


Deploy WordPress
Go to the Menu -> Select Marketplace – > In the List You can find and Select

WordPress Certified By Bitnami

. (Note: WordPress By Bitnami is the Same version as a Regular WordPress So, There are more options than the regular WordPress.and it looks the same as regular WordPress) Click On Launch on Compute Engine
2. Type Deployment Name -> Select Zone (us-west1-b) as i mention in below Image. Select Machine type (micro (1 shared)). Select Boot disk type to SSD Persistent Disk -> Select Boot Disk size as you want for your Site -> Other Settings as Default
3. Apply firewall Settings -> Mark Allow HTTP traffic -> Mark Allow HTTPS traffic -> Accept the terms and conditions. -> Click Deploy.
4. After the Deployment is Complete -> You can see the Site Address, Admin URL -> You can See the Admin user & Password -> Click on Log into the admin panel as below shown in Image.
5. Enter User name & password -> Click Log in -> WordPress Dashboard is been Open.
Connect your domain to your google cloud service.
To Create Static IP setup Domain name to point to the site:
Open Menu -> Go to VPC Networks -> Select External IP Addresses.
2. In Experimental Option -> set as a static. -> type the name of your domain -> Click Reserve -> Make Sure Copy the Static Ip Address it will be used in the Next Steps.
Create DNS Records
3. Menu Again -> Go to Network services -> select cloud DNS -> Create Zone -> Select Zone type Public -> Type zone name as per your site -> type DNS Name as per Domain name(ex.datavius.com) -> click create.
4. Click on Add Records -> Select Resource Record Type to (A) -> In IPv4 Address Paste that Static Address -> Click Create.
5. Again Click on Add Records -> type DNS Name (www) -> Record type CNAME -> In canonical name type your Domain Name(Ex.datavius.com) -> Click Create.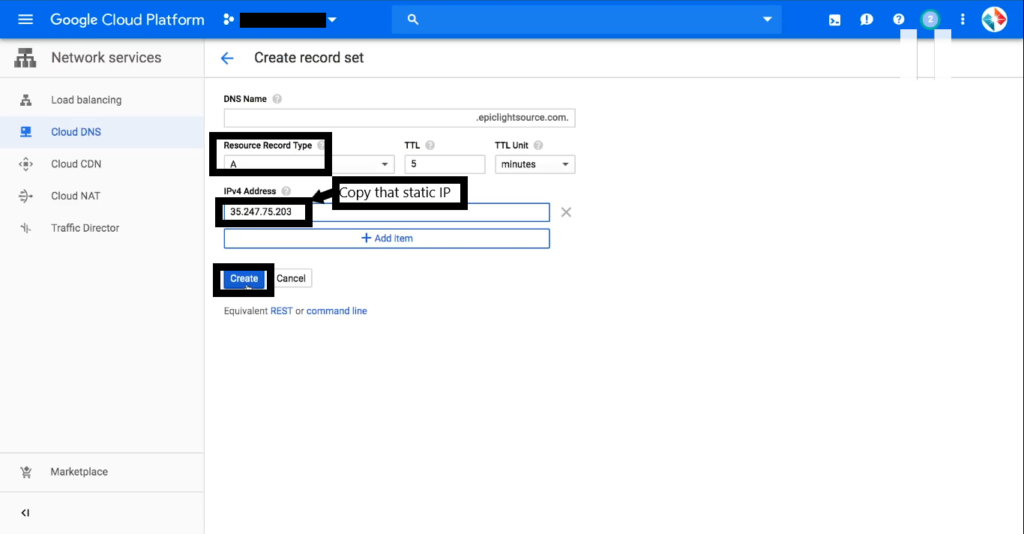 Copy the Name Servers/Cloud DNS And Paste this to the Domain Because name Servers works with Domain and Hosting -> So you can find this as a Name Servers or Cloud DNS on Domain Name Provider site -> Go to this Site(Whenever you brought your Domain) sign with your account -> And Click on Domain find as Cloud DNS OR Name Servers -> Replace One by one with we created with this Services
7. After the Name Servers are Deployed You can reach yours with your Domain name which you brought. (IF it's not working you have to wait for 12-15 hr to activate your site.)
How to Remove Bitnami Banner Ad From Site
Steps:-
Menu -> Compute Engine -> VM Instances -> Click on SSH.
2. Type the commands:-
First Command:-
sudo /opt/bitnami/apps/wordpress/bnconfig –disable_banner 1
Press Enter.
Second Command:-
sudo /opt/bitnami/ctlscript.sh restart apache
Press Enter -> Type Exit -> Refresh your site.
(TIP:- You can Check out my Other Blog about how to Install an SSL Certificate to your Google Cloud Hosted Site.)
NOTE:-
Free SSL Certificate On Google Cloud Hosting you can Check Out My Other Blog by click on it.
HAVE ANY QUERY? YOU CAN CONTACT ME ON CONTACT MENU OR CLICK HERE.
YOU CAN CHECK OUT MY OTHER BLOG (how to Install an SSL Certificate to your Google Cloud Hosted Site) CLICK HERE GO TO THAT BLOG.